...Over the years the club has grown into not only a real golf course, it also grew into a fairly tight membership with a lot of friendships made with people we would never have met without the club. I liken it to the TV show Cheers - when you walk into the Pub area and 'everyone knows your name'.
~ D.R. - WGC Member
The Facts
Who we are:
Private member-owned golf club
Located in Westerly, Rhode Island
Environmental stewards of our coastal property
What we offer:
Waterfront 9-hole golf course
Expansive practice facilities
Pub, Dining Room, and covered Deck dining options
Covered Patio with fire pits
Executive Fitness Center
Wedding & Event venues
Our true story...
We are fiercely committed to protecting the precious land on which our club is so fortunately located
We are a community of close friends, colleagues, golfers, parents and grandparents, children, foodies and general fun enthusiasts
We cherish the salt-pond views, a mindfully maintained golf course and grilling on the patio on Sunday afternoons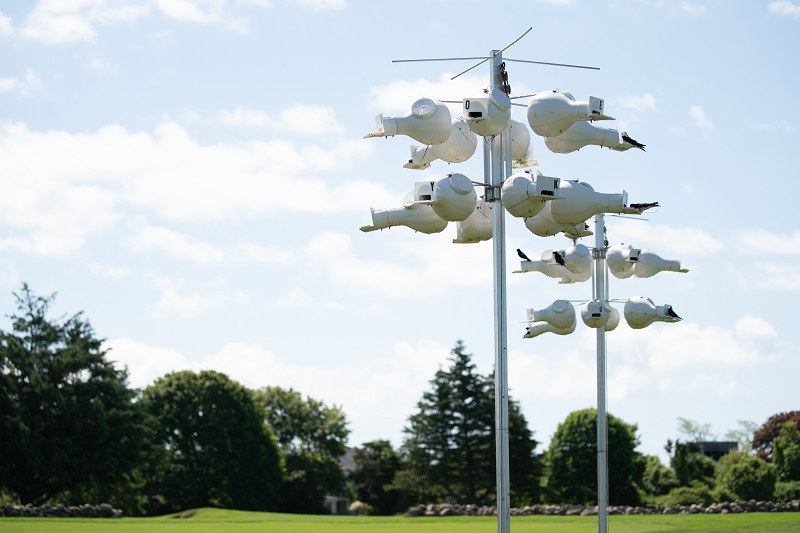 The Golf
Simply one of the best 9-hole golf courses in the world, attested by Golf Magazine
Challenging for golfers of all abilities:
Minimalist links-style design with Scottish bunkers
Undulating greens that blend in with the land
Newly renovated tee complexes for variety
Holes framed by native fescue
Natural landward and seaward winds
The Food
Local. Seasonal. A true "from scratch" dining experience.
Grab a stool at the Pub, a chair on the Deck or relax at an intimate table in the Dining Room. Regardless of where you choose to dine, you always have options to enjoy diverse, creative dishes.
Our culinary team is extremely inventive and always looking to provide modern dishes made with locally sourced ingredients. Executive Chef Dan Murillo works with local partners like Blackbird Farm and Baffoni Farm to purchase the freshest ingredients that allow him to continually create innovative menu offerings.
The Lifestyle
Fitness Center
We are an active bunch. Access to an executive fitness center with modern equipment is important to the healthy lifestyle of our members. Our fitness center and locker rooms include all of the services needed to ensure members can always get in a good workout in at the club.
Special Events & Club Events
Members and guests want to host their lifetime events here. Why wouldn't they, when breathtaking views and ocean breezes are a part of every wedding or special event.
From start to finish we provide full-service for any type of event:
Weddings - say your I do's overlooking Winnapaug Pond
Special Events - anniversaries, birthdays, graduations, rehearsal dinners - members let the club plan these unforgettable events
Club Events - family barbecues, theme dinners, tournament luncheons and cocktail parties, to mention just a few of the events scheduled on the club's calendar